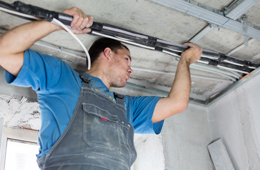 Stand out from your competitors
One way to stand out from your competitors is by having a great looking store front (as well as a great looking interior) of your commercial property. Our knowledgeable and professional team is ready to help you make that happen.
Rest assured that you are going to get excellent craftsmanship and efficiency that is unparalleled to other contractors.
Your satisfaction is our number one priority
As soon as you come in contact with one of our attentive employees your 100% satisfaction is what we strive to meet. If you don't like what we did, we will stay and fix it until it's perfect.
Just a few of the services we offer:
- Concrete work
- Electrical
- Engineering services
- Landscaping designs
Unsure if what you want will fit in the budget?
You have to be very careful about where you put your money when you are trying to run a business. That is why we start you off with a FREE estimate on services. Then we will work with you to complete the project within your budget.